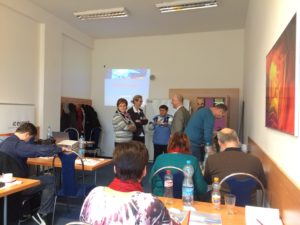 We have prepared another
one-day seminar Accounting in SyteLine
for the users of the accounting module of Infor SyteLine (version 8 and higher), which will take place on Tuesday
21 June 2016
.
Read More
At the turn of March and April, the latest version of Infor CloudSuite Industrial (SyteLine) 9.0.30 was deployed in interStroj, a.s.. SyteLine has replaced the existing solution (information system Safír) because its support has been discontinued and among other things it did not meet the demands on production planning, especially in terms of product range and planning of resources and capacity.
Read More
For a manufacturing company, it is crucial to satisfy its customers – deliver on-time and in the required quality. With the growing volume of orders, multilevel product structure, or production in multi-site environment, there is a danger that you will not be able to optimize planning of customer requirements which will result in late or no delivery at all, or you will produce at higher cost than expected.
Read More
Alliance Laundry CE s.r.o
. decided for
technological upgrade
of Infor CloudSuite Industrial (SyteLine) – the current version of SyteLine 7 will be replaced with the latest version 9.0.30. Preparations for the transition to the latest version started at the beginning of this year, and the deployment of the new version is planned for the turn of September and October 2016.
Read More
At the turn of November and December 2015, Infor CloudSuite Industrial 9 (SyteLine) was deployed in ROSTRA s.r.o. The previous version Infor SyteLine 7, which had been in use since 2009, was replaced with the latest version 9.00.20.
Read More
Dear partners and friends,
have a great start,
smooth ride and strong finish in 2016.
Company management together with our employees.
Read More