Field Service Plus
Field Service Plus (thenceforth FS Plus) is a solution which is a direct part of the Infor SyteLine system. The application uses the same technology and a user appearance as Infor ERP Syteline does. FS Plus is, therefore, a fully integrated solution which uses data directly from the Infor10 ERP Business (Syteline) system (a customer code-list, a supplier code-list, an item code-list). Transactions created in FS Plus influence the status of stock and they create book entries, as other areas of the Infor ERP SyteLine system do.
FS Plus is designed to be used in many various fields of industry. Thanks to its flexibility, a user is able to set his/her system by himself/herself in order to fit his/her specific purpose.
FS Plus is a module for providing of a service for produced items (either their own, or foreign). Within the frame of the FS Plus module, it is possible to record necessary service characteristics for each service item. Information on parts, of which the item consists, is recorded in the configuration of the item. The item configuration is useful mainly if a company produces equipment, which consists of other components, for which it can be supposed, that they will be replaced in the future. Every component may have a serial number and guarantee allocated. At the replacement of the item, the date of installation and the date of change on the configuration level are recorded. The configuration can, therefore, be seen from various points of view: as of the day of installation, as of the current day or as of any other day.
Event Overview and Incident Monitoring
This functionality makes it possible to record all activities connected with service from acceptance of service announcement up to its termination. Simultaneously, it is possible to create a knowledge base out of these data. The FS Plus module is designed in order to satisfy both service organizations which send their engineers to customers, and the service organizations which provides telephone helpline service only.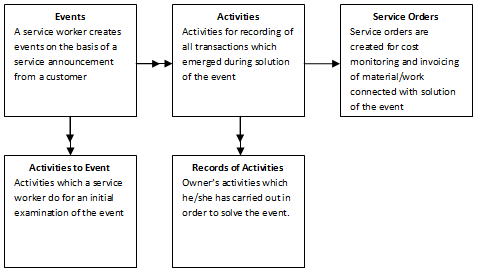 Service Order Management
A service order is used for monitoring of total costs of service work and invoicing to a customer for items not covered by guarantee. The service order may include more lines and operations; therefore, it can be used for more types of service announcements.
A service order consists of the following levels:
A service order – it includes an overview of requirements for service and information necessary for invoicing to a customer.
Service order line – it must exist for every item or unit monitored with a serial number requiring service.
Service order operations – these are activities which have to be performed with the given item. On this level, material, work and other costs shall be shown.
Planned costs – planned assessment of material, work and other costs which are necessary in order to solve a service order.
Actual costs – actual material, work and other costs which were recorded during solving of a service order. These transactions are used for calculation of an invoice value of a service order.
Service partners are individuals who do some service work. According to the type of provided service, the partners can be set as employees, customers or suppliers.
Partners can issue material, record performed work and monitor other costs connected with the service announcement. These costs can be invoiced to the customer or they can be recorded as costs of guarantee. As soon as material has been issued for a service order, the status of stock shall be decreased and the status in stock shall be updated. If a payroll transaction is transferred, the system will apply any fixed or variable overhead costs, which are set to the given partner in the centre.
The module is also prepared for a situation, when a partner is not an employee of the service organization. For instance, if the service organization contracts a partner to carry out service announcements and a partner simultaneously uses his/her own resources (material, work). If the service is terminated, the partner shall announce the emerged costs and a record that these costs shall be settled to the partner shall be made in the system.
Resources Scheduling
Partners are used to cover the following service tasks: Events, Activities and Service orders. The FS Plus module includes a functionality which helps plan cooperation with the partner. It is possible to show partner's daily schedule or overview of all the partners and their tasks. Further, it is possible to record skills and capabilities of a partner as a help to make a decision about the best-qualified partner for the given service order.
Service Contracts
Within the frame of the FS Plus module, it is possible to keep an overview of concluded service contracts. In every contract, you can set a kind of service, for which a customer pays. One line of the contract may cover service of several units in case that a customer wants to get only one invoice.
Guarantee Monitoring
Guarantee monitoring is possible only on the level of an item or a component. For instance, a car may have only one guarantee period, its tyres, however, may have a different one. The system monitors whether the guarantee is provided by a producer or, in case of a purchased component, by a supplier. The guarantee period can be determined as of the specific date or, for example by a limit, such as a number of kilometres.
Maintenance
The FS Plus module makes it possible to monitor both the internal and the external service of units produced by a company or machines used at production. Every item that exists in a code-list may have its own maintenance schedule set. The maintenance schedule includes various types of services, for example a check, calibration or setting. The frequency of maintenance can be set in regular intervals or according to a different criterion, for example a number of kilometres. Units are created from product orders, therefore the setting of a schedule automatically copies to the newly created unit. Within the frame of the FS Plus module, one can monitor all costs which emerged during maintenance. When a service order is used, it is also possible to invoice this activity to a customer.